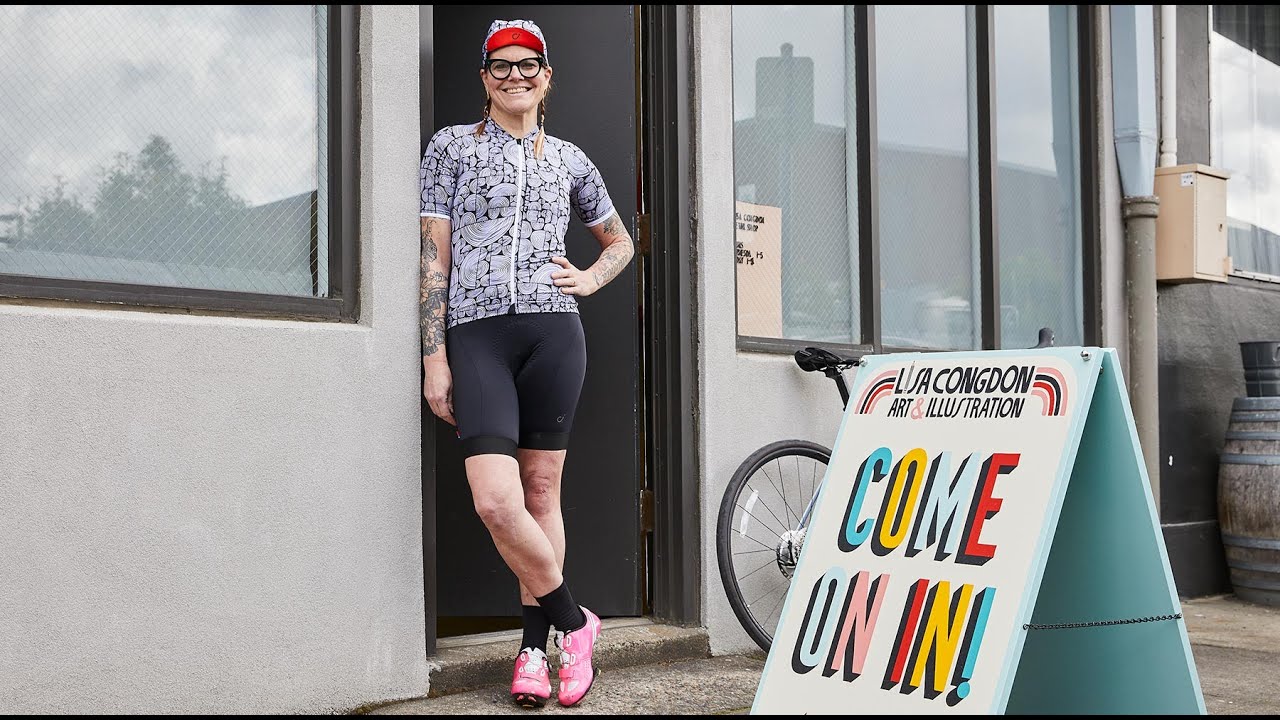 How cycling helped Lisa Congdon's artistic process
Don't miss out on the latest CyclingTips updates.
Lisa Congdon first collaborated with Velocio for the brand's 2018 Unity jersey to promote a more inclusive cycling culture. Congdon is back collaborating with Velocio once again with a new summer Signature SE jersey and Harvest Ultralight jersey design. The hand-drawn design features a half-circle pattern that represents wheels turning, processes moving forth.
Well known in the textile industry, the 52-year-old Portland, Oregon native expresses herself with bold lines, strong colours, intricate pattern design, and hand lettering, all in a sort of abstract manner. Congdon has worked with well-known organisations including Comme des Garçons, Crate and Barrel, Facebook, MoMA, REI, and Harvard University.
"After the 2016 election, I realized that I had an obligation to use my platform to talk about stuff that was important to me," Congdon said during an interview with Velocio. "And so now my work is very much melded with the social issues I care most about."
"If I feel passionately about something (social issue or otherwise), I will often not be able to do anything else until I make some piece of art that discusses my feelings. My work helps me communicate and start discussions with others."
Congdon had what some may consider a late start to cycling, beginning at the age of 30, though she may disgree – "I'm 52 and been cycling for over two decades and 30 feels very young to me!" She also began drawing and painting when she was 32. She feels that there's a connection between the process of each, one helping the other. Minds sure can wander on those long, soul-searching rides; just think of the designs that you could come up with.
Velocio describes Congdon's new design as "the meditative quality of the circle and half-circles radiating outwards on the page call forth the same type of process that cycling facilitates."
"I think the same drive, discipline and determination required for cycling and other sports are required for art-making," Congdon said. "Some days you feel in the flow, others are a struggle. Practice is at the heart of getting better.
"I had all of these years of experience, and so much of the experience that helped prepare me for that was cycling."
Artists can find expression not just on their standard mediums, but also on the very products we buy and wear in the cycling industry. Many brands are collaborating with artists on specific projects, allowing for a new story and perspective to be shared. Clothing brands like Velocio, Rapha, Pearl Izumi, Stolen Goat, Attaquer, have released special edition designs, but it's not limited to cycling kits. Giro has facilitated many artist collaborations through its shoes, and companies like Squid Bikes let you be your own artist, allowing you to paint your own bike. Cinelli even has its own art program.
https://www.instagram.com/p/CCT8mLwjBfY/
Then there's the riders who express themselves beyond the bike through art. Taylor Phinney retired from professional cycling in 2019, allowing him to pursue his creative passion for art and feel that satisfaction he had been searching for. Phinney recently showcased a custom-painted Allied Able to help bring awareness to the Davis Phinney Foundation and those with Parkinson's Disease.
Cycling allows people a sense of freedom. It allows us to push ourselves beyond what we thought we could do, and many of us love a challenge. "I get an enormous amount of personal, intrinsic satisfaction from making art," Congdon said, "and I know that satisfaction is a result of a lot of hard work that was difficult. And that sense of personal satisfaction is where it begins for me."
Velocio's Signature SE jerseys, which include recycled fabric for 2020, are available in three designs for both men and women's fits: Lisa Congdon, Rugby, and Weave and cost US$169 / AU$199 / €154 / £141. Velocio is also offering new summer-inspired designs in the men's and women's Harvest Ultralight Jersey in Night, Mint, and Burnt Orange for AUS$139 / U$174 / €128 / £117.