Lorena Wiebes (Team DSM) cemented her position as the peloton's fastest sprinter on stage two of the RideLondon Classique, winning the bunch sprint by bike lengths ahead of her rivals for the second day in a row.
Just as in the first stage, the 141km long stage two from Chelmsford to Epping saw very little action in the early stages of the race. With 120km to go, Veronica Ewers of EF Education First-TIBCO attacked and managed to stay clear of the peloton for 94km in the second solo breakaway in a row after Anna Henderson's move on Friday.
Ewers' gap extended to around 3 minutes at one stage and the American rider mopped up maximum points on both the first and second sprint points. Lorena Wiebes, on the hunt for bonus seconds to extend her GC lead, won the kick for both from the peloton, gaining 4 seconds overall.
Ewers also crossed the first QOM point ahead of the peloton but Henderson, who leads the classification, took three points behind her. After Ewers was eventually caught with 26km to go the British rider took maximum points on the second climb at Mount End/Tawney Common and now leads that classification by 11 points.
The sprint teams kept the pace high and the race together for the rest of the stage, which included a few short, sharp climbs, and the peloton came to the line together for the second of three predicted bunch sprints. Wiebes took her second convincing win of the week trailed by Marta Bastianelli (UAE Team ADQ) and Emma Norsgaard (Movistar).
The win marked Wiebes' 42nd career victory at just 23-years-old. The Dutch rider extended her lead on the general classification going into Sunday's circuit race around central London.
RideLondon Classique (2.WWT) Chelmsford → Epping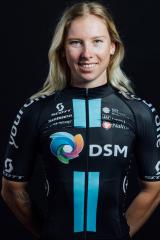 Valcar - Travel & Service