The 2022 Baloise Belgium Tour came to a controversial end on Sunday. Quick-Step Alpha Vinyl achieved double victory with stage and overall wins for Fabio Jakobsen and Mauro Schmid respectively, however, the team's means of ensuring Schmid's top step were far from fair.
Schmid's overall lead was based on countback going into stage 5, the young Swiss rider equal on time with Lotto Soudal's Tim Wellens. So on the flat final stage, it would all come down to the Golden Kilometre, where there were three sets of bonus seconds on offer.
20-year-old Arnaud de Lie might have been among the favourites for the stage himself, but instead of waiting for the bunch sprint a little over 6 km down the road, he worked selflessly for his teammate. The 20-year-old led out the first sprint where Wellens snagged a full compliment of three seconds, but he was prevented from getting any more by Yves Lampaert who shoved and blocked the Lotto Soudal leader, enabling Schmid to get back onto equal pegging.
"The 'fight' with Lampaert costs me the overall victory, I'm convinced of that," Wellens told media after the finish. "It was not only in the second, but also in the third sprint that he made a mistake. Although that was less pronounced."
Lampaert was eventually disqualified for his actions, but the news did little to soothe Wellens, whose second place overall was unaffected.
"Of course that doesn't change things for me. Mauro Schmid is the overall winner."
It's not the end of the world for Wellens, but with his team scrambling for UCI points, it's the difference between 18th and 19th in the virtual relegation race. According to data journalist Raúl Banqueri of Lanterne Rouge, who updates the leaderboard daily, Lotto Soudal sits on the wrong side of the relegation line by just 0.33 points. There's a lot left of the season, but that's gotta hurt.
Baloise Belgium Tour (2.Pro) Gingelom → Beringen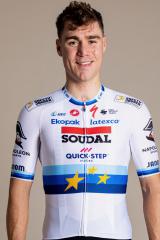 Intermarché - Wanty - Gobert Matériaux